Accounting Software (Enterprise Edition)
Business Financial Accounting Software helps you to control total expenses and income details of the company, and manages overall business transactions in a financial year. Financial Accounting program allows you to customize your business activities according to your specific need.
User friendly invoice management software facilitates to manage company information, account records, customer and vendor records and other financial related information. Data Doctor offers financial accounting software (Enterprise Edition) with Barcode Setting that enables you to access item information accurately. With the help of Barcode Setting, you will be able to fetch the item information (including item code, item name and item rate) in voucher entries at the time of business transaction and you can save your time.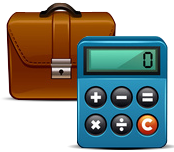 Billing Inventory Management utility allows you to maintain various types of voucher entries including journal voucher, receipt voucher, payment voucher etc. Accounting Management Software facilitates to generate various accounting reports (like Balance sheet, Sale report, Purchase report, Production report etc) to view and analyze overall financial transactions and facilitates to save generated report in PDF or Excel format as per user need.

Software Features:
Software manages company information, account information, customer and vendor information, item information and other business information.
Provides facility to create unit of the product and also create the currency of the company in which the business transaction is done.
Manage various types of voucher entries records for business transaction.
Provide barcode setting feature that enables you to fetch the item information accurately. With the help of barcode setting, you don't need to enter item information manually and it saves your time and efforts.
Generate various accounting reports to view overall financial transactions and facilitate to save generated report in PDF or Excel file format for further use.
Software facilitates with user authentication feature to open or delete existing financial records for security purpose.
Provide date administration feature to set freeze and unfreeze date for data security.