Digital Camera Recovery Software recovers lost or mistakenly deleted data from different type of digital cameras like point and shoot camera, professional camera, digital video camera, novelty camera, specialty camera etc.
Image Recovery tool recovers your data even when memory card pulled out while the camera was still on. Picture Recovery program helps you to get back all your important lost files or folders. During recovery process, scanning of digital media is performed to locate the lost pictures or images. After the complete scanning the pictures found in the storage media is displayed and you can view the lost photos and easily copy your recovered pictures to user specified location.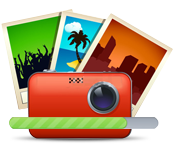 Software Features:
Software provide recovery of files and folders including jpg, jpeg, gif, riff, tiff, bmp, 3gp, mpeg, wav or any other files stored in your digital media.
Supports all type of digital camera storage media including Canon, Casio, Compaq, Digital Dream, Epson, Fujitsu, Kingston, Hitachi, Konica, Kyocera, Toshiba, Transcend, Memorex, Nikon, Olympus, Panasonic, Philips, Samsung, Sony, Sound Vision etc.
Provides data retrieval support for USB media including compact flash, memory card, mobile pocket PC, mobile cell phone, communicator, smart media, multimedia card, SD card, etc.
Recover Data even if "DRIVE NOT FORMATTED" message is being displayed while accessing your digital camera on your Computer PC.