iPod Recovery Software recovers your lost mp3, music, video, pictures, images, songs, files and folders from previously existing data on your iPod music device. iPod Restore utility ensures data recovery even if iPod reset operation is being performed on your device. iPod Music Recovery software restores corrupted or missing data which is lost due to accidental formatting, virus attack, improper shutdown, human mistake and due to some other data loss conditions.
iPod Music Recovery software supports all latest Apple iPod series including iPod mini, iPod shuffle, iPod Nano, iPod home stereo, iPod U2 etc. Software can recover songs if formatting and deletion is performed on your Apple iPod on Microsoft Windows and Apple Macintosh operating system.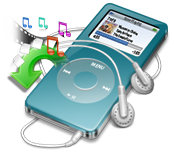 Software Features:
Data Recovery software restores data even if iPod memory is formatted or reset operation is performed on your iPod device.
Recovers data when iPod partition volume not recognized by the system.
Data Retrieval software restores lost music, photos and video from infected iPod media player.
Software supports all type of iPod models including iPod shuffle, iPod mini, iPod Hi-Fi, iPod nano etc.
Restore corrupted, damaged iPod files from iPod media damaged due to virus generated data loss.
Recover data even if "drive not formatted" message displayed on your computer while accessing iPod drive.