NTFS Recovery Software recovers all your missing files or folders from Windows NT/ 2000/ 2003/ XP operating system and NTFS, NTFS5 based file system. Utility can recover data even if partition table, boot sector or Master file table is corrupted. NTFS Data Recovery tool provides multi-storage support for hard disk drive on your computer PC. Disk Recovery Software provides user-friendly GUI (Graphical user interface) interface and provide fastest data retrieval utility.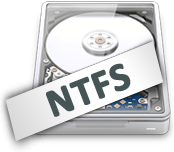 Software Features:
Recovers data, files and folders lost due to deleted / formatted / corrupted partitions from NTFS based operating systems such as Windows VISTA/XP/NT/2003/98 operating system.
Provides extremely attractive Graphical user interface (GUI) for restoring lost or deleted files and folders.
Disk Restore Software supports NTFS, NTFS5 file system.
Provide multi-storage support for SCSI/IDE/ATA/SATA hard disk drives.