Sim Card Data Recovery Software is read only tool for restoring accidentally deleted text SMS, phone memory from your GSM mobile phone. Non-destructive recovery utility restores the recent deleted call list and retrieves inbox or outbox messages deleted from sim card memory of your cell phone.
USB Sim card reader (PC/SC or phoenix standard based USB sim card reader) is required to view information including deleted contacts numbers and text messages.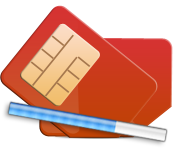 Sim Card Recovery tool retrieves phone book numbers, fixed dialed numbers, last dialed numbers and provides detailed information of your sim card such as ICC-ID identification number, IMSI number printed on your sim card chip.
Features:
Recovers all yours deleted SMS including inbox and outbox messages.
Support SIM of any service network provider.
Recover all phone number along with the contact name.
Read GSM SIM of any country any network.
Software can read the subjects of any card regardless of the subscription status.
Get back 20-digit ICC identification number printed on the SIM card along with service provider name.
Easy and safe to use SIM Card Data Recovery software is helpful in computer forensics.