Home
/
Windows Recovery Utility
Have you deleted important files from your hard drive, or your drive became corrupted, or you have unintentionally formatted drive losing your important data files and folders?
Windows Files Retrieval utility provides complete solution to recover your lost files and folders including digital pictures, images, videos, songs, text documents, etc from your removable storage devices. Instant Data Recovery Utility restores all your lost or logically damaged data from FAT and NTFS supported file system. Software does not require any technical skills to operate Windows Data Retrieval software.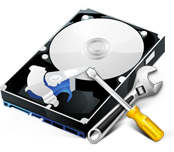 Software Features:
Retrieve data from former existing partitions.
Support for FAT and NTFS file system.
Recovers deleted files and folders even after use of Shift+Del key and emptied recycle bin.
Provides graphical user interface (GUI) for easy and quick data recovery.
Recovers data lost due to deleted, formatted, damaged or corrupted partitions in all logical crashes.
Restore data from bad sectors affected storage media.
Professional data recovery software is an affordable utility and does not require any technical skills to operate the software.